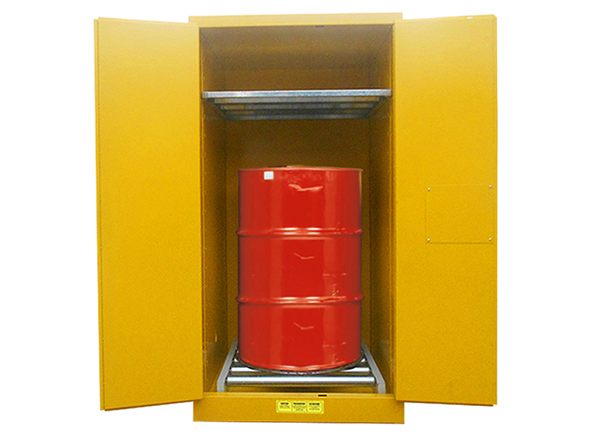 Image

Drum Storage Cabinet, 55Gal/208L
Code: BlueDSC-1
1650x750x860mm, 55Gal/208L
Premium cold rolled sheet steel are used for cabinet construction, by complex cross welding method which makes the endurable time up to 10 years.
Double layer cabinet body, inside between layers is there 38mm thick air insulation, effectively reducing the heat transfer speed from outside into the cabinet.
Inside cabinet equipped with leakage proof shelves, which have an 60cm adjustable height space improving the interior space utilization efficacy of the cabinet.
The base of cabinet equipped with a 50mm high leakage proof sump to prevent flammable liquid and chemicals spilling.
On both sides of the cabinet are there two vents with flame arrestor, which help release the flammable gas out from the cabinet and isolate outside sparks into the cabinet in case of fire.
ABS paint spraying is processed inside of the cabinet. With high temperature engineering, it provides good anti-corrosion performance to store various chemicals.
Static Ground Connection prevents sparking on the cabinet.
Clearly marked label warning flammable chemicals.