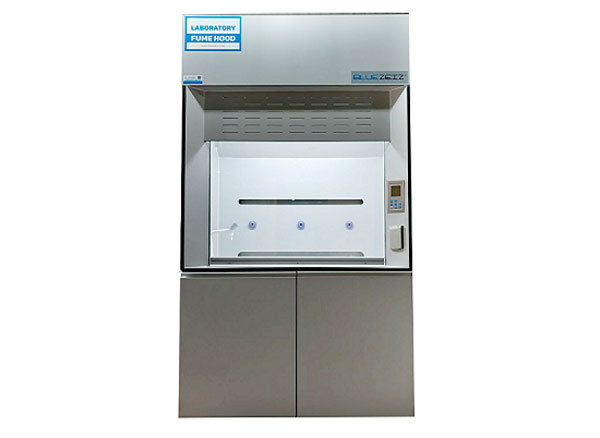 Image

PH Series Phenolic Fume Hood, 1.5m, microcontroller
Code: BlueFH-1500PHS
Microcontroller, Manual Sash,1.5m
Model

BlueFH-1500PHS

External Size (W*D*H)/mm

1550*800*2200

Internal Size (W*D*H)/mm

1320*670*730

Work Surface Height

840 mm

Max Opening

500 mm

LED Lamp

36W

Display

LED, 4.5x5.5 cm

Control

Microcontroller BM220: On/off light, On/off fan, air velocity, fan on/off timer

Front Window

5mm toughened glass; Manual

Power Supply

AC220V±10%, 50/60Hz

Electric Socket

Standard: IEC60884-1

Material

Exterior: Phenolic Resin

Interior: High grade melamine board with good acid and alkali resistance function

Worktop: Chemical resistant phenolic resin
BLUEZEIZTM PH Series Phenolic Laboratory Fume Hoods are designed to provide superior personnel protection from exposure to hazardous agents and toxic chemicals in a variety of applications.
BLUEZEIZTM fume hoods use horizontal and vertical airflow across the work surface to ensure optimal containment. By installing proper filter, it can also protect environment. By installing proper filter, it can also protect environment.
Worktop: Made out of wood-based fibres with thermosetting resins, under high pressure and at high temperatures, into robust compact laminate panels - Phenolic Resin Worktop meet the most challenging specifications. It is resistant for many kinds of acid, alkali, solvent and reagent etc. This worktop have 4 anti-spill edges ensures that the chemicals do not spill out to the user.
Sash window: Glass door is 5 mm, manually raised and lowered by hand
Electronic control panel and display: The MB220 microprocessor controller enables to turn on/turn off light, turn on/turn off fan, fan on/off timer, adjust air flow; Language: English. Dislay: Large LED, 4,5x5,5 cm, back light.
Electrical system:
+ Wiring system: Electrical wiring is insulated, which increases the fire resistance
+ Socket: One power socket is located on the right side of the hood, each socket has two plug locations, with a plastic cover.
+ Electrical safety: The fume hood is equipped with anti-shock device to ensure the safety of users in case of electrical leak